Life is too short to waste time on running from one product to the other gleaning the required functionality. A "one stop shop" cloud platform is no longer a dream. It became one of the primary Jelastic PaaS goals to help customers attain all required cloud services within a single platform providing a turnkey multi-cloud solution for both business and DevOps teams.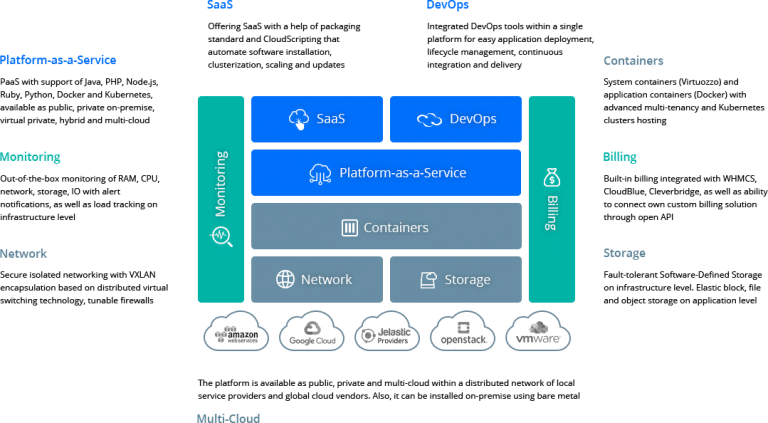 Need a tool to manage infrastructures and speed up time to market? Here you get a whole DevOps platform that accelerates development and simplifies application life-cycle management by automating deployment, scaling, clustering, continuous integration and delivery, etc. Jelastic PaaS is open for all types of projects supporting both traditional (legacy) applications and cloud-native microservices.
Need to orchestrate containers and be in trend with all that Kubernetes hype? Jelastic PaaS is container-based and provides system containers (Virtuozzo) and application containers (Docker) orchestration with advanced multi-tenancy and pre-configured Kubernetes clusters hosting. In other words, it is a fully-functional Container-as-a-Service (CaaS) out-of-the-box.
Running traditional or legacy applications? Cloud-native world scares you? No worries, just keep going with built-in Elastic VPS, Plesk, cPanel, ISPmanager and so on for your existing projects. Even the most complex Java EE applications can be migrated to Jelastic PaaS without code changes, attain container density and scalability with no need to adjust the code. As a result, you get traditional hosting with cloud benefits.
Want to cut cloud costs? Enjoy a unique pay as you use pricing model based on automatic vertical scaling. It is only available in Jelastic PaaS for all kinds of workloads while other clouds offer this modern pricing model only for serverless services. In addition, you save a lot using hibernation of inactive instances, high density of containers running on top of bare metal, and add-ons for automated scheduling of environment activity.

Need to SaaSify the product to expand your business? Here you get the cloud platform that enables easy transformation to an as-a-service model with built-in billing, monitoring and managed services on demand.
Require an extra level of protection against downtime and data center failures? Or just wish not to be limited to a specific infrastructure vendor? Jelastic PaaS gives you multi-cloud availability across a wide network of local service providers and global cloud players with zero lock-in. You can get Jelastic PaaS as public, private, hybrid or multi-cloud. Mix and match the options, distribute the workloads based on your requirements, migrate applications and containers across regions doing all these actions within a single point of management.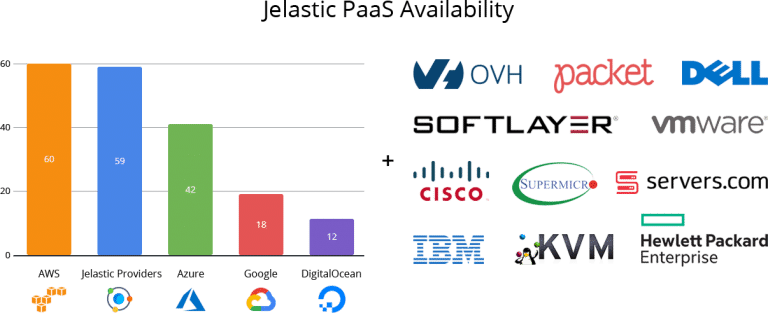 Java, PHP, Python, Node.js, Ruby, .NET, Go, Docker Swarm and Kubernetes clusters, GitLab, Jenkins, etc. – this is just a short list of technologies available within a single platform.

Jelastic PaaS offers a marketplace of certified software stacks and popular applications that are optimized for scaling and high-availability (the most notable and popular are Enterprise WordPress and Magento Packs, Database-as-a-Service, Kubernetes-as-a-Service, and others).

All described functionality is managed via a feature-rich and intuitive UI and significantly reducing complexity and entry barriers. More experienced users can also use SSH access, as well as CLI, API and Cloud Scripting for implementing custom automation.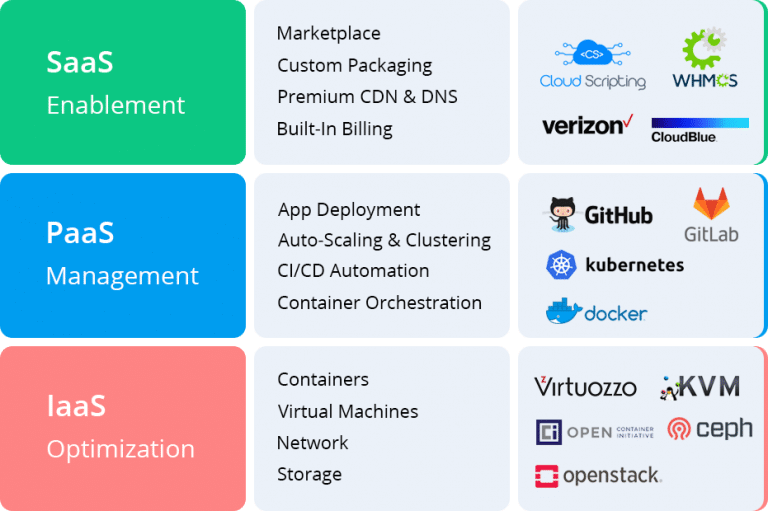 Jelastic PaaS is a freedom of choice in action. Get started trying out the platform benefits for free at our Jelastic PaaS platform. It's known that once discovered a freedom, it is difficult to get back to limits, and why should you?