Kubernetes Cloud Hosting with Jelastic PaaS
Run Containerized Applications in the Cloud
Automated Installation | Hyper Scalability | Production Ready | Multi-Cloud Availability | Simplified Management | Flexible Automation | Pay As You Use
Production-Ready Cluster for Containerized Applications
Kubernetes is a portable, extensible, open-source platform for managing containerized workload and services, that facilitates both declarative configuration and automation. Set up applications based on the Kubernetes system instantly within Jelastic PaaS.
Multi-Cloud Availability for Clustered Installations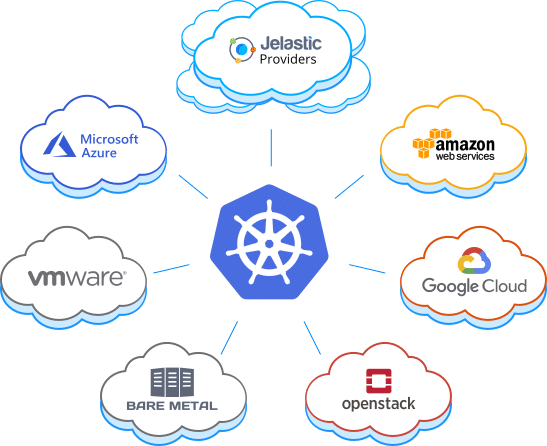 Providing significant flexibility, Jelastic PaaS gives the possibility to group various types of Kubernetes cloud resources within a single platform. Being named environment regions, each of such Kubernetes cloud resource types may have a different capacity, pricing, and location, but is still orchestrated via a single infrastructure, allowing to build versatile and complex cloud solutions.
Kubernetes Cluster Components Out‑of‑the-Box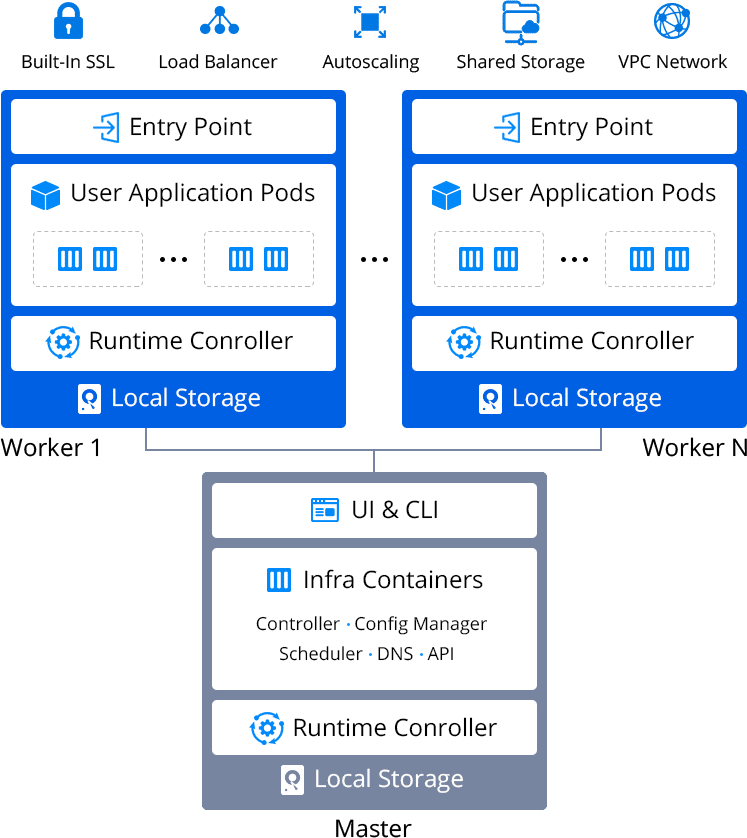 Pay As You Use Pricing for Kubernetes Cost Efficiency
Jelastic PaaS provides a unique process of automatic scaling with payment based on the real consumption, but not on the server size.

The platform makes hourly measures how many RAM and CPU inside each container are consumed and requests payment only for these used resources but not for the limits.
You can set up a maximum scaling limit for each container, in this way the resources will be always available in case of load spikes or other consumption changes. No matter how high the limit will be, the payment will be based on real usage only. The rest of the allocated resources will be just waiting in the resource pool for the application to request them, and it is totally free of charge.
Benefits of Kubernetes Cloud Hosting with Jelastic PaaS






Get Started with Kubernetes Cloud Hosting for Free
Sign up for a free trial period and test drive the benefits of Kubernetes Cloud Hosting with Jelastic PaaS that represents a joint platform for easy hosting and managing containerized workload and services.
When you sign up, you create a trial account at our Jelastic PaaS platform. Before the end of your free trial period you will be notified that you need to convert your trial account into a billing account in case you choose to keep your hosted Docker environments at our Jelastic PaaS platform.